How To Report Bitcoin & Cryptocurrency Phishing Sites
As the bitcoin and cryptocurrency markets advances forward each year, internet thieves are getting more and more creative into finding ways to steal people's funds.
One of the most effective ways to steal people's funds and data(in any industry),  is through phishing sites, which is one type of a social engineering attack.
What is a phishing site?
Phishing sites are scam sites that are masquerading as certain legitimate websites like exchanges and cryptocurrency wallet sites, tricking people that the website they're in is the legitimate one by trying their best to copy the exact same look and feel of the website they're copying.
What can we do about this?
The only way for us to combat this, is to simply educate people about this scam by sharing articles like this one that can educate them, and to report these phishing websites to search engine sites like Google as soon as possible.
By reporting these phishing sites to Google, it causes these websites to be removed from Google's search index; potentially decreasing the further damage that can be caused by these scams.
How to report phishing sites to Google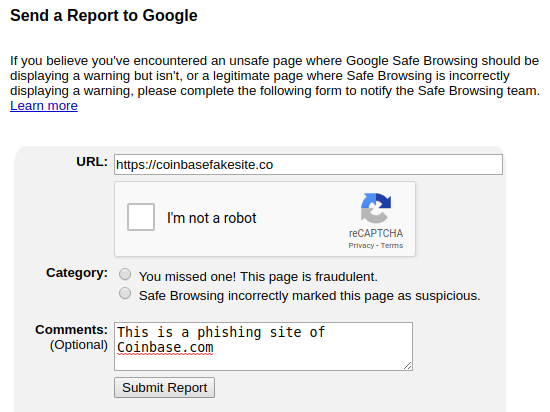 Head over to Google's Report a Phishing Page.
Type in the phishing website's link.
Solve the captcha when displayed.
Select the first option: "You missed one! This page is fraudulent."
Enter a short description about this phishing link, and what website it's trying to copy.
Other places to report phishing websites