Ledger Nano S: "Not Enough Storage/Space Left"?
The Ledger Nano S has been of the best and most affordable hardware wallets in the market due to its very simplistic and compact design, and its support for a good number of coins.
Unfortunately, what bothers a lot of Ledger Nano S owners is the infuriating "Sorry, not enough storage left" error message, sometimes appearing even if you only have around 3-4 apps installed(coin app size varies).
Safe to assume, the tremendous amount of complaints from Ledger users is one of the main reasons why Ledger Labs discontinued the Ledger Nano S.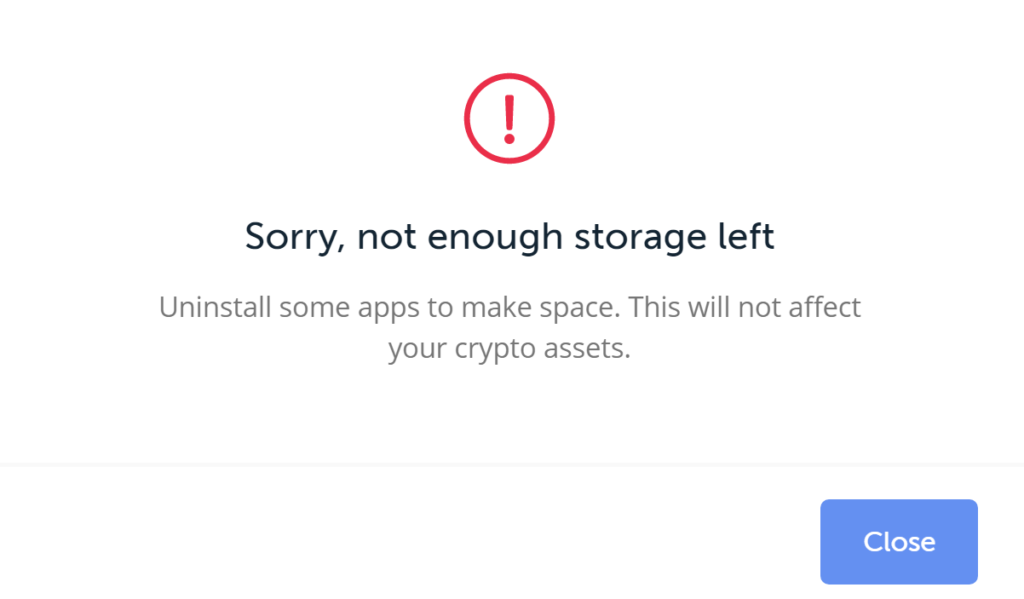 Ledger purposely made the Ledger Nano S's device's memory small for security purposes, so there's nothing we could do but use a workaround. So, what's the solution?
The solutions
Uninstalling apps
While this might not be the solution you're looking for, for you to have enough device memory to be able to use other apps, you need to simply temporarily uninstall apps of coins that you're currently not using much. You only need the apps if you're going to actually send out some of your coins. You can still receive coins and freely view your portfolio on Ledger Live even if every single app on your Ledger Nano S is uninstalled.
Grabbing a Ledger with more memory
Another solution would be to purchase a newer Ledger device with higher device memory instead, which can support hundreds of cryptocurrency apps without needing to frequently uninstall apps.
Fortunately, all the Ledger devices succeeding the Ledger Nano S has enough device memory to install as many apps as you want.
Will I lose my coins if I uninstall an app?
No. Uninstalling a Ledger app isn't going to lose you access to your coins or tokens. You can freely uninstall every single app on your Ledger wallet and then reinstall them again at a later time, and you'll still end up having access to all your coins and tokens.
Always remember that your coins and tokens are on the blockchain, not the Ledger device itself. You only use the Ledger device to access your coins and tokens.
Is uninstalling apps the only solution if I have a Nano S?
On the 1.4.1 version update of the Ledger Nano S firmware, Ledger Labs claims to have done some optimizations to the apps to potentially decrease their memory size. Though they claim that you could now install up to more than a dozen apps, people are still claiming that they could only install around 2-5 apps.
For now, if you're on the latest version and you're still having memory problems on your Ledger Nano S, I'm afraid uninstalling some of the is the only solution for now.
How do I uninstall an app?
Open Ledger Live with your Ledger Nano S plugged into your computer
Select "Manager" on the Menu sidebar

Simply click on the trash icon of the apps you want to uninstall